Japan recorded a daily rise of 41,377 new coronavirus cases on Wednesday, shattering the record it set a day earlier by about 10,000 as the government puts more prefectures under a quasi-state of emergency.
Another 13 deaths were also reported. The daily case rise is a significant increase on the previous seven-day average of 7,475, according to the health ministry data.
Tokyo's daily caseload hit a new record 7,377, up more than threefold from a week before, according to health ministry data.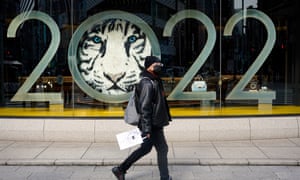 Elsewhere, Osaka prefecture logged 6,101 cases, Hyogo reported 2,514 and Kyoto saw 1,202 — all record highs for the second consecutive day, the Japan Times reports.
The number of seriously ill Covid-19 patients nationwide as of Wednesday was 281, up by 20 from the previous day but still far below the record high of 2,223 marked on 4 September last year.
The government intends to place 13 more prefectures including the capital under a quasi-emergency status from Friday until 13 February as the Omicron variant continues to spread. The 13 prefectures — Tokyo, Gunma, Saitama, Chiba, Kanagawa, Niigata, Gifu, Aichi, Mie, Kagawa, Nagasaki, Kumamoto and Miyazaki — will join Okinawa, Yamaguchi and Hiroshima, where the pre-emergency designation is already in effect.


Read More: Covid news live: WHO recommends lifting international travel bans, says proof of