The Omicron wave has filled the equivalent of two to three hospitals with
coronavirus
patients, a top health official has said, and the number of people being admitted with the virus is continuing to rise.
There are currently 1206 people being treated in hospitals across the state, 122 of whom are in the intensive care unit and 40 on a ventilator.
Call for booster shots to be mandated
The Premier has urged that a decision to mandate booster shots be made at the National Cabinet meeting today.
"To be properly protected, you need three doses. That is what the experts tell us and what I expect National Cabinet to reflect today," Mr Andrews said.
"I want to be really clear with everybody, this is not two plus an optional extra. It is three doses in order to be protected against severe illness as well as to minimise the likelihood of you getting the virus or giving the virus to someone else."
Mr Andrews said he was hopeful the national framework would embrace "practical scientific reality".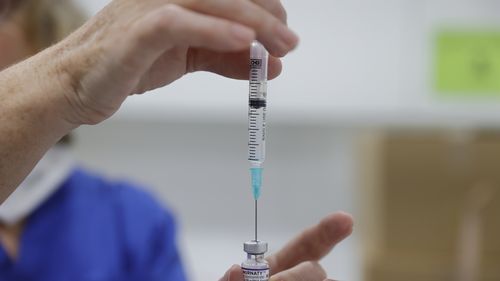 Victorian schools to return 'day one, Term One'
Victorian schools will return as normal in Term One.
"It'll look a bit different. But it's really important we have our kids back day one, term one and that's what we're working towards," Mr Andrews said.
He said improved airflow and outdoor classes will be some of the options looked at to make the return to school safe for all teachers and students.
"Let's not forget teachers and staff have given so so much which is so important," Mr Andrews said.
"I will make more announcements to give parents as much notice as we possibly can."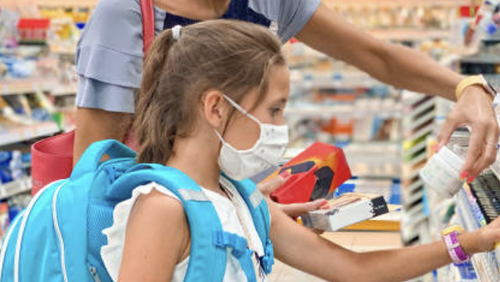 Millions more RATs ordered
An additional 166 million rapid antigen tests (RAT) have been ordered by the Victorian government.
Mr Andrews said the significantly early delivery of a previous order of 44 million RATs has made "all sorts of things possible".
"It's very important that we keep adding to that that stockpile," Mr Andrews said.
"They're going to be particularly important in the weeks and months to come."
"We're out there in the international market, indeed some local markets, pushing as hard as we can to get as many as we can as quickly as we can."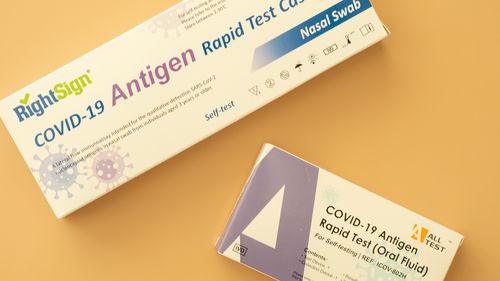 Hospitalisation amid Code Brown
Tom Symondson, chief executive of the Victorian Healthcare Association, told Today there were almost 1200 people in Victorian hospitals being treated for COVID-19 after the state's struggling health system switched to Code Brown protocols.
"That is about the size of two to three large Melbourne hospitals completely full of COVID patients," he said.
Mr Symondson said Victoria was tracking to having 3000 people hospitalised with coronavirus if the Omicron wave continues to gain momentum.
He said the Code Brown protocols were helping but did not rule out future restrictions on health services.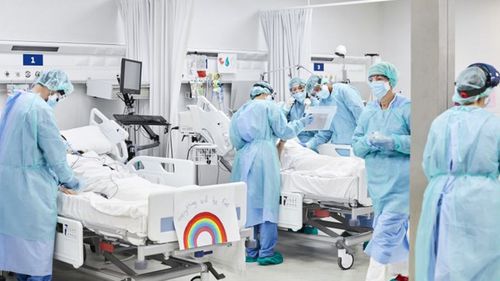 The start reality healthcare workers are facing come ahead of a
COVID-19
vaccine booster blitz this weekend as the state looks to shore up its lagging uptake of the third jab.
Just 48 per cent of eligible people over 70 have had the booster, along with just 23 per cent of adults overall.
Victoria slashed the booster dose interval yesterday, to three months after somebody had received their second vaccination.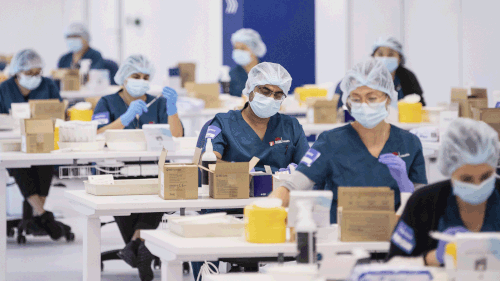 It's effective immediately, meaning an additional 1.2 million people in the state can take advantage of this weekend's blitz.
From Friday to Monday, 60,000 more appointments will be available at Victoria's state-run vaccine hubs, while walk-ins will be encouraged.
Many will also run for extra hours.
"Victorians will be able to walk up to our key vaccination centres and there will be more space in the system for them to book ahead," Victoria's Deputy Secretary for the COVID-19 response Naomi Bromley said.
Victoria recorded 20,769 new COVID-19 infections and 18 more deaths yesterday.


Read More: Victoria records 21,966 new COVID-19 cases and 15 deaths