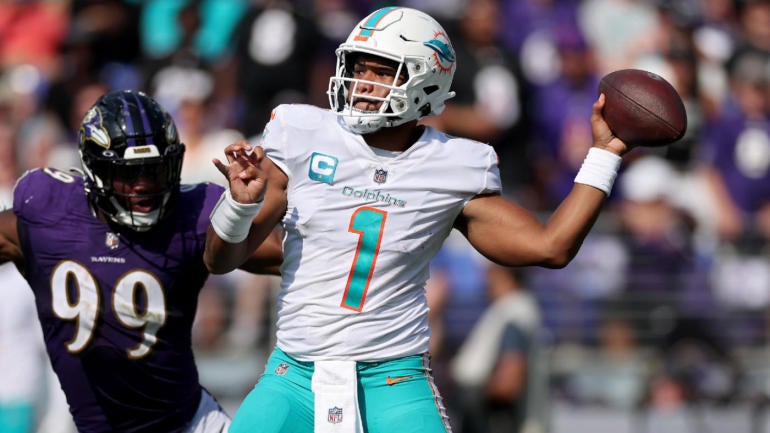 You may not have noticed it, but scoring is down so far this NFL season. Quite a bit, actually. In Week 1, there were 673 total points scored across all games, compared to 768 in Week 1 a year ago. It wasn't quite as bad in Week 2, but all games averaged 43.6 points, down roughly 10% from Week 2 a year ago. 
There are some ugly, ugly offenses out there right now. Chicago, Seattle, Houston, Carolina, New York (both teams!) … yeah, it's been rough going in a lot of places through two weeks. And your Fantasy teams are probably feeling it. 
Especially if you dealt with some of the injuries from Week 2. I wrote about those injuries in last night's newsletter, headlined by Trey Lance's season-ender, and we'll have more in the coming days on those and whatever else comes -out before Week 3 so you'll be ready to set your lineups. I gave my thoughts on the top waiver-wire targets, too, led by a couple of really exciting rookie wide receivers.
Before we move on to next week for good, let's take a look back at Week 2 with my recaps for every game from Sunday and Monday. I've got the biggest winners and losers for each game from a Fantasy perspective, plus some notes you might have missed if you weren't watching the game. You'll learn a lot from these.
Here's what you need to know from every game yesterday. 
Week 2 recap
Here are all of the injuries you need to know about, plus one winner, one loser, and one more thing to know about every game. 
Winner: Stefon Diggs. After his three-touchdown game Monday, Diggs is up to 71 PPR points through the first two games, the best start by any WR in the past 20 season, per Stealing Lines' Dalton Kates. He was weirdly inefficient last season, but if he's rediscovered his 2020 form with Josh Allen, Diggs could challenge for the WR1 spot. He's that good. 
Loser: Derrick Henry. Or maybe every offense that has to face the Bills this season. They made life hell for Matthew Stafford and the Rams in Week 1, and it was worse for Henry and the Titans Monday. Henry got into the end zone to sort of salvage his Fantasy game somewhat, but he was getting hit in the backfield so often on his carries that it was hard to know whether his struggles were because of a lack of burst or Buffalo's dominance. For what it's worth, Henry is averaging just 3.1 yards per carry in three games since coming back from his broken foot during last year's playoffs, and I am concerned that he might not be as physically dominant as he once was. For someone whose Fantasy appeal is almost entirely tied to their outlier physical dominance, that's concerning. 
One more thing: The Titans pulled the starters at the end of the third quarter, but Treylon Burks was making he kind of progress we were hoping to see before then. He ran a route on 68% of pass plays through three quarters, just behind Robert Woods for the team lead, and he continued to draw targets at a high rate, with a team-high six on just 17 routes. Burks' role is only going to increase, and he looks every bit like the future No. 1 option on this offense based on what he's done in a small sample size so far. He's behind Garrett Wilson and Chris Olave if you're looking to add a WR this week, but if you have space for him, he's well worth adding. 
Winner: Jalen Hurts. Hurts finished the game with 31 pass attempts, a total he reached just once in his final eight games last season — and that was while throwing just four passes in the fourth quarter. We hoped that the addition of A.J. Brown would make Hurts more of a passer, and that's exactly what we've seen through two games. But it hasn't come at the expense of his rushing, as Hurts had 57 yards on 11 carries with two more rushing touchdowns. He might not be the No. 1 QB in Fantasy — Josh Allen, hello — but Hurts might belong in the conversation for No. 2. 
Loser: Dalvin Cook. The Vikings abandoned the run early in this one, something they never really did in the Mike Zimmer era. They won't fall behind as early most weeks as they did in this one, but new coach Kevin O'Connell being willing to go away from Cook (who had six carries and six targets Monday) does at least put more game-script risk in his way. The hope is that this offense is improved enough that Cook overcomes whatever he might lose on the floor side of the equation, but that didn't happen this week. 
One more thing: We usually don't talk much about defensive players here, but Darius Slay deserves major props for his performance Monday. He had two interceptions and allowed just one reception on six targets when matched up against Justin Jefferson. Jefferson looked unstoppable against a good Packers defense in Week 1, but Slay was able to keep him…


Read More: Fantasy Football: Winners and losers, numbers to know, and more from Week 2